Foodland Honors Front-Line Heroes with Supermarket Employee Day Celebrations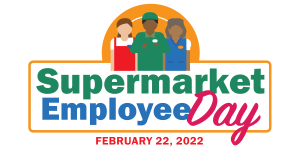 Foodland Honors Front-Line Heroes with Supermarket Employee Day Celebrations
On February 22, Foodland will join supermarkets and food manufacturers nationwide in celebrating Supermarket Employee Day. Our stores will be taking time on this day to recognize and reward the hard work of our own supermarket heroes. FMI—The Food Industry Association, has proclaimed this new holiday to recognize employees at every level for the work they do feeding families and enriching lives. With more than 40,000 individual stores that sell food and grocery items in the U.S. alone, supermarkets are the backbones of our communities. Millions of supermarket employees come to work daily to keep shelves stocked and to provide communities with essential services that help them survive and thrive.
"Our employees have been helping the whole community to stay strong during the COVID-19 pandemic" said Mitchell Grocery President David Mitchell. "When COVID-19 forced people to home shelter, we stayed open. And we have continued to adapt and serve our communities every day. There is no question that supermarket employees are heroes. We are thrilled to honor and celebrate them!"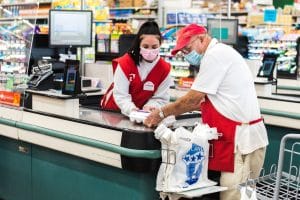 Supermarket employees are helping us to stay strong during the COVID-19 pandemic. Despite supply chain disruptions or work-force reductions, supermarket employees have demonstrated trojan efforts to keep communities going. At a time when many businesses were forced to close their doors or lay off workers, grocery stores actually increased their total number of employees by 10%, or roughly 500,000 individuals. Grocery stores are part of the fabric of their communities — and that's a commitment we take seriously. Its why stores have taken every step possible to safely serve customers and preserve jobs even during the darkest moments of this crisis. We're extremely proud of the fact, for instance, that food retailers provided more than 1.5 billion meals to Americans in need through the Feeding America network — the largest private donation stream to the organization in 2020. As they have since day one of the pandemic, supermarkets continue to make the investments necessary to keep their doors open, respond to consumer and community needs, maintain safe environments for employees and customers, and find ways to make an impact throughout their communities. Supermarket employees have personified compassion and courage when communities have most needed to be encouraged.
"Supermarket employees have earned our gratitude and respect, which is why we are creating a holiday to celebrate them," said Leslie G. Sarasin, president and CEO of FMI—The Food Industry Association. "The fact is they always have been frontline heroes during periods of crisis. In the face of natural disasters or global pandemics, these brave and dedicated individuals keep communities strong and moving forward."
On behalf of Foodland, we invite all residents of the community to stop in one of our stores on February 22 to congratulate and thank local supermarket heroes. Better yet, honor your favorite heroes on social media and use the hashtags, #SupermarketEmployeeDay and #SupermarketHeroes.