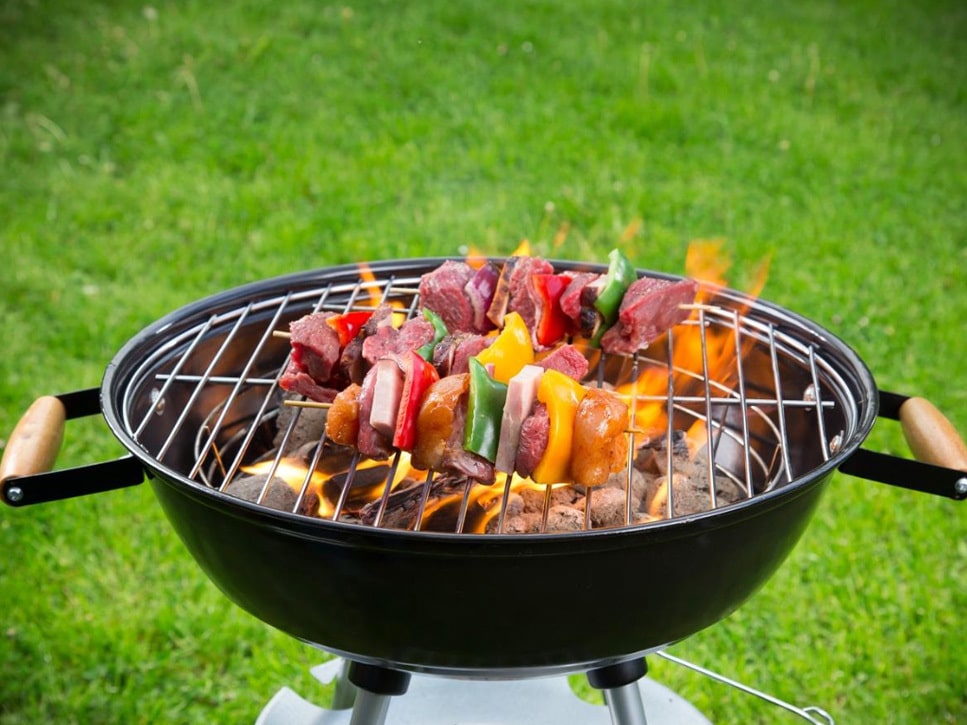 Recipe Sponsored By: McCormick® Grill Mates®, Preferred Angus® and Kingsford® Charcoal
Ingredients
1 Preferred Angus® sirloin steak (1 ½ pounds), cut into 1 ½-inch cubes

1 red bell pepper, cored and diced into 1 ½-inch chunks

1 poblano pepper, cored and diced into 1 ½-inch chunks

1 red onion, peeled and diced into 1 ½-inch chunks

1 package Grill Mates®

Brazilian Steakhouse Marinade

¼ cup oil

¼ cup water

1 tablespoon red wine vinegar

1 bag Kingsford® Original Charcoal
INSTRUCTIONS
For making kabobs, most people buy bamboo skewers at the grocery store. These are inexpensive and work well—but since they are made of wood, they will catch fire very easily. To prevent burning, soak them for an hour in water prior to threading on the meat and vegetables.
Start by cutting your beef into cubes or chunks 1 to 1½ inches squared. Place the meat in a dish and apply your marinade- Mix Marinade Mix, oil, water and vinegar in small bowl. Reserve 2 tablespoons marinade for basting. Place meat in large resealable plastic bag or glass dish. Add remaining marinade; turn to coat well. 2. Refrigerate 15 minutes or longer for extra flavor. Remove from marinade. Discard any remaining marinade.
Meanwhile, cut your vegetables into chunks about the same size as your meat chunks—1 to 1½ inches. Good choices for vegetables include onions, bell peppers, tomatoes, mushrooms, or even fruit like pineapple. You can marinate the vegetables for additional flavor if you like but do so in a different container.
Thread the meat and vegetables onto the soaked bamboo skewers, making sure not to crowd the ingredients too much. The meat and vegetable pieces should be touching, but not too snugly. If they are packed too tightly, they may not cook through in some places. If they are too loose, you run the risk of overcooking and drying out the meat.
Set up your coals in a two-zone configuration. Keep all your hot coals on one side of your grill, leaving the other side empty. It's a great way to sear the kabobs over high heat and keep a void space in case of flare-ups.
Place your beef kabobs directly over the coals on the hot side of the two-zone fire. Let them sear and get some good color, then rotate the skewer to brown the other side. If flare-ups occur or the sticks start to burn, move the skewers over to the cool side of the grill.
Once browned, move to the cool side to finish cooking. Beef reaches medium rare at 135°F. A digital, instant-read thermometer will really come in handy for indicating a temperature reading quickly. In general, beef kabobs take about seven to eight minutes total cooking time, depending on the size of the beef chunks.
Unlike larger cuts of meat, there is no need to let your beef kabobs rest. You can serve them immediately with the side dishes of your choice.
This recipe was created as part of our "Match Made in Grilling Heaven" Summer Grilling Sweepstakes. Click here and enter to WIN a $5,000 patio makeover and grand prize grilling package!